inz-gui-apps
A small collection of teensy Gtk+ 2/3 graphical utilities and eye candy. The suite includes a palette viewer, clock, cpu and memory graph and a command runner.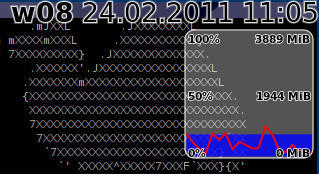 inz-clock and inz-cpumeter in action
inz-clock

Simple transparent clock showing date and time.

inz-cpumeter

Simple transparent cpu and memory graph.

inz-pview

Simple GIMP palette viewer with color code copying.

inz-runner

Minimalistic command runner.
Sources available in archive. Git repository available at (gitweb): http://inz.fi/git/inz-gui-apps.git
TUT POP to iCal calendar converter
The intraweb "POP" of TUT provides calendar markings as XML. With this perl script, you can convert them to iCal format and import to your favourite calendaring software. Now also available as service.
libircclient IPv6 patch
This patch adds basic IPv6 support for libircclient; also adds automake / libtool usage and build shared library. Should patch against 1.2 from upstream. 1.3 includes also IPv6 support, but in somewhat different way and only for server connections, not DCC. This patch also allows you to define local bind address (vanity hosts, yay!).
GLibIRC
Need libircclient integration for a GLib program? Here's the answer. Header and source needed.
autossh
I wanted my irssi to appear automatically whenever I awake my laptop from suspend, so I crated a little python script that runs a command whenever NetworkManager says it is connected. You can grab it here.
I personally use it like this: autossh -4 -t inz.fi "LC_CTYPE=en_US.UTF-8 screen -dr"